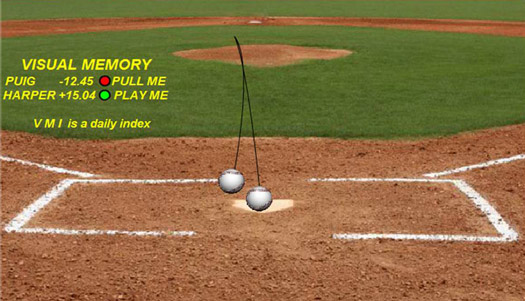 Sports Weather
Speed + Air Resistance = Ball Movement
Ball Movement = More Hits or Fewer Hits

THE "HOME AND ROAD BATTING AVERAGE" HAS LONG BEEN AN ACCEPTED ANALYSIS TOOL.
HOW DOES THE VMI COMPARE TO THE BATTING AVERAGE?
The VMI simply divides the overall batting average into specific pitch-type averages for deeper analysis of the hitter's talent.
The VMI simply divides Home and Road Venues into specific familiarity and unfamiliarity categories of atmospheric conditions for deeper analysis of the hitter's ability to adjust.
So, the VMI is an index that gauges the degree of today's adjustment for hitters and allows the observer the ability to predict today's performance under similar conditions.
THE "PITCHER'S ERA" HAS LONG BEEN AN ACCEPTED ANALYSIS TOOL.
HOW DOES THE ADI COMPARE TO THE PITCHER'S ERA?
The ADI simply divides the Pitcher's ERA into Pitch-Type averages for deeper analysis as to "When" are his averages achievable.
The ADI simply divides the Home and Road Pitcher's ERA categories into specific game time atmospheric venue conditions which are known to affect pitch-type movement.
So, the ADI is a gauge of the air density to identify today's amount of movement for pitchers to provide users the ability to predict today's effectiveness under similar conditions.
Here's the thing: No player can adjust to substantially more ball movement from friction in the air, without several games of exposure. This fact then causes the following to occur: "The entire team is affected at the same time, causing more popups against the fastball and adds to the losses, because the team does not get the normal contribution from either the top five hitters, or from several random players."
Altitude Pressure, Temperature, Humidity dictate movement for the pitcher
We have gauged every hop, bend and lift in every park so that you can have clear insight into a player's daily struggle to perform in all the variations.
For Pro Players and Managers our index gives you a heads-up prior to game time. When your personal index is high, we have some VMI tips for you to ponder. When your personal VMI is low, we have some focus concerns to make you and your team aware.
For Fantasy Players - - Optimize your fantasy lineup with this real world "hitter's park" index.
Las Vegas? -- Now you can beat 'em!
We provide our standard members with a daily index a full day ahead of game time.
The larger index has over a 65% accuracy rating
We combine Temperature, Humidity and Altitude calculations along with where the batters and pitchers played recently compared to where they are playing today to develop a unique baseball index based on actual ball movement. Whether you are a player, manager, or just want to learn more about the game, our index is sure to give you insight. Check out the various features we sustain throughout the season.