Please login for Member Services
Membership Types
Standard Membership - $19.95/yr.

Designed with the fantasy player in mind, this membership allows you to build your own 30 man roster and using Visual Memory Index principles, help determine the player's effectiveness for the given day's game.

This membership allows you to see today's and tomorrow's team VMIs. (Non-members can only see history.) Additionally, for all the players in your roster, you can view their personal VMIs (which can differ based on games played or missed, trades, etc.) as well as their most recent games' VMI graphed with their batting stats.

Pro Package Membership* - 49.95/yr.

Designed with extended features in mind, this membership builds on the Standard Membership and provides detailed daily, custom, personalized tips based on your VMI and the opposing team's pitcher.

The detailed tips discusses your current VMI, the movement to expect in the current days' game and reminders about how you deal with additional or lesser movement in varying VMIs and venues, given the opposing pitcher's speed.

As well as additional tools and reports, you will also be provided with the current graph of your Pro Player's personal VMI vs. AVG, OBS, SLG and OPS.

(Upgrade from Standard: $29.95, includes a 1 year extension)
| | |
| --- | --- |
| * | This package provides detailed VMI tips for one designated Professional Player. |
Feature Comparison
| | | | |
| --- | --- | --- | --- |
| Feature | Non-Member | Standard Member | Pro Package |
| Team VMI History | X | X | X |
| Team VMIs Today and Tomorrow | | X | X |
| Custom 30 man Roster | | X | X |
| Personal VMIs (PVMI) for Roster Players | | X | X |
| Level 1 VMI Tips for Roster Players | | X | X |
| Stats vs. VMI for Roster Players | | X | X |
| Level 2 VMI Tips w/venue and opposing pitcher info | | | X |
| Graph of VMI vs. AVG, OBS, SLG, and OPS | | | X |
| Detailed View Game - Home vs. Road | | | X |
| Tight, Loose, Reverse Pitcher Report | | | X |

Example Roster
After choosing up to 30 players for your roster, members can display each player's VMI based on their previous games and current game location. The VMIs displayed are the player's personal VMIs which may differ from the team's VMI based on games played or missed.
As can be seen in the example, a short explanation of how today's VMI may affect the player is shown in the mouseover pop-up. The graph icon also provides a batting stats graph.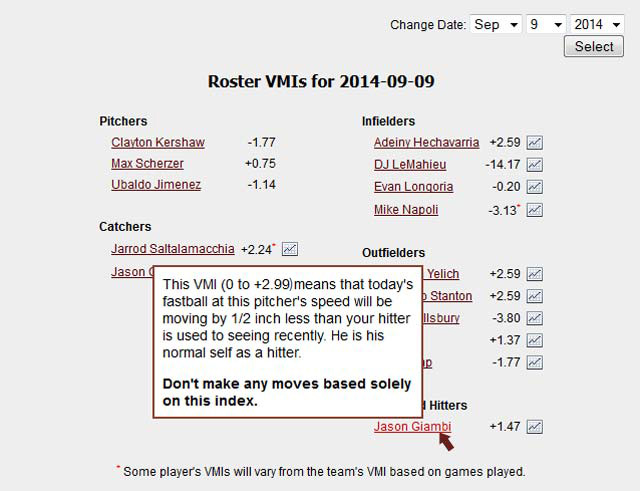 Sample Pro Tip
The current day's Professional Tip is available on the Member's Home page at approximately 5AM each game day.
The following example is what DJ LeMahieu would have received on the day of Sept. 9, 2014. Note that the detailed tips for that day's game are discussed along with opposing pitcher and current venue. The graph of his last 20 days Personal VMI are plotted against Average, On-Base Percentage, Slugging Percentage, and On-Base plus Slugging.