How did San Diego get here?
Posted: 2018-08-17 08:15:18 (ET) [ 987 views ]
There is something wrong in San Diego....duh. But it isn't the talent, or the players. It is either a manager, coach or general manager and possibly a locker-room cancer. Here's why--and how you can tell what is the issue.
Since the VMI tracks the teams' exposure to movement on pitches, then you know how familiar the team is with typical movement in their own home stadium as well as road venues. These guys are pros. They have been hitting the four-seam fastball since Little League. San Diego's venue does not create more movement than San Francisco's nor Seattle's venue. Yet the Padre's are the worst 4-seam hitting team I've seen since I've been tracking it. Last night's game was no exception.
Since the league average against the four-seamer is almost a 10% ratio of hits generated against strikes seen, and since every baseball player knows he must set up his body to expect the four-seamer first; then someone is screwing with the Padres' players' minds and confidence level. The players must have confidence that "they" are the professionals; not some coach or manager!
When you can see yesterday's results showing that the Padres as a team hit almost 30% of the two-seamers thrown when their VMI shows they are not out of their element, but zero hits against the four-seamer with even more opportunities to hit it, then you know there is a cancer within the organization. It has been going on for far too many seasons to ignore it.
Below is the summary of their year (home only) against the four-seamer and within their comfort ranges: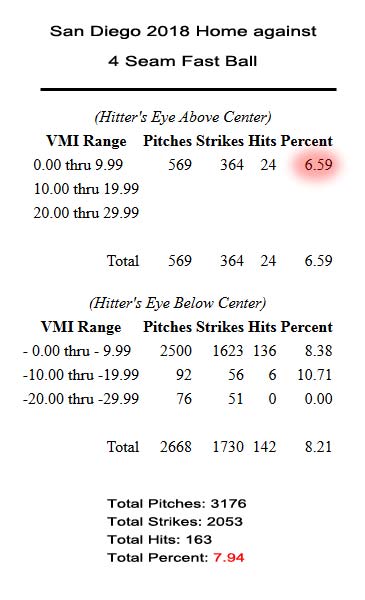 The Padres' Ownership needs to do something about identifying that cancerous person or persons within the organization.