The new ballpark of the Texas Rangers is now old hat. So, what is new for 2020 for VMI???? We have a new website whereby we have combined the significant ingredients of performance and preparation in all of MLB to help you pick today's winners.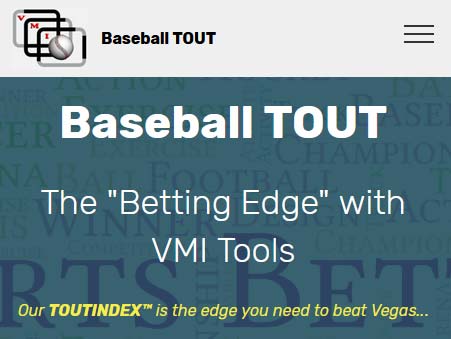 We are now in a new age that technology has opened--the age of legal sports wagering. It is and will continue to be a multi-billion dollar industry speeding toward a multi-trillion dollar one. And, you are invited. But, be sure of this; they all want your hard-earned money.
We, too, would like to be a part of that, but we are not bettors, and we are not invited to the Las Vegas and legalized additional States' party. So, we decided to give you a tool which can protect you from serious loss. Sometime, prior to May 1st of the 2020 season and after we have gathered a little information on the Rangers' park and the new players, we will introduce a new website called "Baseball Tout" The TOUTINDEX™ will be for your enjoyment and your protection in legalized betting where available.
Here, you will be able to pick today's probable winners without wondering what Las Vegas wants you to think, because Vegas Money Line is not part of our formula. Yes, Las Vegas odds-makers want to keep balance between the favorite and the under-dog so they change the money-line throughout the MLB gameday, to attract under-dog betting.
You will get all of today's game selections with your standard membership. Over the past decade, we have been tracking our formula against Las Vegas' Money Line. When we finally got it balanced this past year and applied it to the past four seasons, our correct pick percentage is 63.38% to Las Vegas Money Line favorite percentage at 59.96% applied to over 9,500 games.
If you want the higher percentage picks, that also typically beat Las Vegas by a few percentage points, then you will need to get serious about the game. You should be a pro, before deciding to go for the gold. Picks, that is. And, be prepared to report winnings to the IRS, etc.
Yes, these picks which are considered in three steps upward in quality to Bronze (about 70%), Silver (about 75%) and Gold (about 85%), will cost more, so you will need to wager more to win bigger on these high percentage winners. You need to know everything you can about betting.
You will be able to find a link to Baseball Tout on this VMI website before the rest of the world hears about it. We have planned for you to be able to see any of 2019 daily TOUTINDEX™ picks, the opening Money Line (at the time it was polled), the score and the result. You simply pick a date and check it out.
We do not recommend wagering in the first month of the season anyway, so when it is available it should be effective for you.
Until then, happy Spring Training 2020.