Can Austin Gomber Survive Coors Field?
Posted: 2021-03-01 14:25:11 (ET) [ 629 views ]
Good question. Answer, of course, is—we will see! This question is being asked all around the "Rockies" by those with hope remaining.
At Baseballvmi.com we do research, originally at the Rockies' Front Office request by Dan O'Dowd. The new front office has not contacted us since Dan O'Dowd left the organization. However, the research continues, as it is fascinating to me and hopefully to some of you.
In attempting to answer the above question, I looked at Gomber's numbers in all his outings that we have recorded. Below is a summary of his outing(s) at Coors Field. I have not checked to see if this was one outing or more, but the results are listed as all these numbers were generated at Colorado games. How do I know that? Because the ADI Range can only be duplicated at 5,000 or so feet elevation, due to the barometric pressure.
Austin Gomber Pitches thrown in Coors Field
ADI Range/40.00 to 44.99 (5.0 hits/outing) Very Straight Pitches Opponent Hitter Above 4-seam
Pitch Type Thrown Strikes Strike% Top Sp %Type Hits % H/S
| | | | | | | | |
| --- | --- | --- | --- | --- | --- | --- | --- |
| Four Seam Fastball | 44 | 31 | 70.45 | 93 | 50.57 | 4 | 12.90 |
| Slider | 15 | 6 | 40.00 | 92 | 17.24 | 0 | 0.00 |
| Change Up | 16 | 8 | 50.00 | 90 | 18.39 | 1 | 12.50 |
| Curve | 12 | 7 | 58.33 | 80 | 13.79 | 0 | 0.00 |
Gomber is rated as a Tight Pitcher by www.baseballvmi.com (Report, #7), utilizing his fastball over 50% of the time. Since he utilizes a high fastball as a surprise pitch and one in which the hitter must get his stance and anticipation set high, you may have already noticed his hit to strike rate was 12.90% or 1.3 hits per 10 strikes thrown at Coors Field.
This is a high rate, common in Coors Field, but tough to hold a team down at that rate. A pitcher should not be happy putting runners on base with his primary pitch being above 9% of the strikes thrown. His strike percentage is too high and his speed is too slow for an effective fastball at Coors Field. Keep in mind, this was most likely the result of his first outing ever in Colorado at 5,200 feet.
Below are all the pitches we have recorded for Austin, but shown vs. the "Hitters VMI Ranges" Report #8:
(We used 20 in our query, to retrieve all pitches recorded since 2014 instead of a specific year)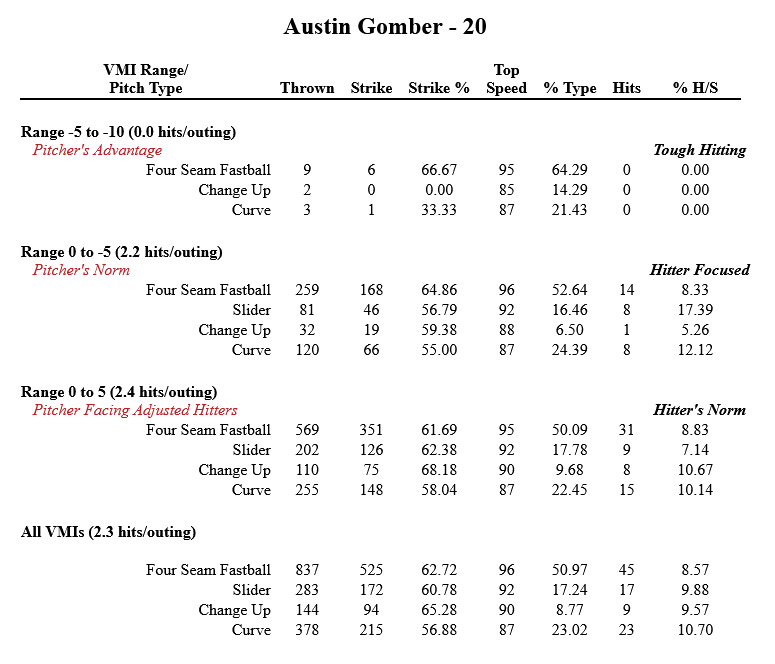 My suggestion to the Rockies brass would be to try to hold him off from pitching to any team until the 3rd or 4th game of each series at Coors. Why? Because all teams conform to what they have seen in the previous 2 to 3 games. If he is going to survive as a high fastball pitcher (fly ball) the Brass needs to realize all visiting teams coming into Colorado are inherently set to swing higher against the fastball.
This is based on the more vertical and horizontal tailoffs on 4-seamers they've been used to identifying early (in other parks) in its travel to the zone. So the visiting team is super ready, during games 1 & 2; for a high fastball (at the rate of 12.9% hits/strike) and some of those will be home runs in Coors Field.
What would waiting until the 3rd game do, to expose Gomber to the current visiting line-up? Downward breaking, faster pitches seem to be more effective the first couple of games in Coors Field. And, low 4-seamers get a high number of groundball outs early against new visiting teams to Colorado because of the higher instinctual set-up on the fastball of the visiting team. As the visiting team adjusts to the Colorado pitch track, they will instinctively become conformed by the third (rubber) game, thus their terrible performance upon leaving Colorado. If the Rockies decision makers can find a way to hold Gomber until the 3rd or 4th game when the visiting team has fully conformed to the straighter pitches, then he would be better able to survive with the high fastball being his go to pitch. Otherwise, he had better utilize his slider more often, as it is listed as being in the 90+ mph range, which is very impressive if that is an accurate number and/or identifier of the pitch.
Gomber scores as a mid-range "Tight" pitcher, which means he utilizes his 4-seamer within a pretty good mix of other pitches. Colorado pitchers should utilize the two-seamer, slider and sinker, (reverse pitching) more so in the first couple of games of each series to off-set what the visiting team has been seeing more regularly at other stadiums than in Coors. It appears they know this.
Gomber's Pitcher-Type Scores:
| | | |
| --- | --- | --- |
| Type | Score | Ratings |
| Tight: | 30.00 | ( 20.97 2.24 0.00 -1.23 8.02 ) |
| Loose: | 28.00 | ( 20.97 0.00 7.02 0.00 0.00 ) |
| Reverse: | -16.95 | ( -35.97 7.24 0.00 -1.23 13.02 0.00 0.00 0.00 ) |
Will he survive? Survive is a far reaching term and also depends if the Rockies trade him before the season. Pitchers for the Rockies sometimes survive because they are the best option, but not necessarily great. Unless the Rockies' Front Office helps him with both his pitch mix and his appearance-timing as I have suggested, then he may survive, but not with a good era. If he has a good era for a season, don't expect it for two seasons in a row.